Welcome to AZ Pro Benefits!
Arizona Pro Benefits specializes in health insurance for individuals, families, seniors age 65+, and groups from 2 to over 50 employees. As Brokers representing all major carriers we will help you make an informed decision on a benefit plan to fit your needs and budget- whether it is for yourself, family or your business.
After 20 + years of experience with another Insurance Agency, AZ Pro Benefits was created in 2005 with the goal of bringing more personalized and better service to our clients.
Arizona Pro Benefits has experience serving the health insurance needs of individuals and groups. We welcome you to meet our team!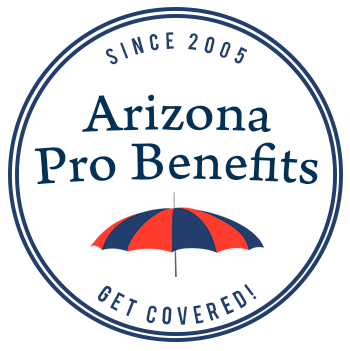 Reasons why AZPB is a great choice
Experience
30 years in the health insurance business. And over 40 years in related industries.
Integrity
A commitment and reputation for putting our clients needs and interests first; and for maintaining honesty in our relationships with the carriers we represent.
Education
We stay informed of the ever changing requirements, and marketplace, so that our clients can be assured of current information.
Service
First and foremost is our unparalleled commitment to service!
We Negotiate
Annual renewal evaluations and contract negotiations
Customized Healthcare
Plan design comparisons and recommendations
Save Money
Cost savings recommendations
We Innovate
Innovative plan design ideas
Service Claims
Ongoing service for claims and/or administration concerns

Sally Glass
Benefit Consultant
Sally Glass is a native of Arizona. She holds a Bachelor of Arts degree in Spanish from Northern Arizona University, and the prestigious industry designations of Chartered Financial Consultant (ChFC) and Registered Health Underwriter (RHU). For over twenty years Sally has been serving her individual and group clients with innovative ideas for their life, health, and long-term care needs. She would like to count you among these satisfied clients.

Daniel Penn
Benefit Consultant
Daniel Penn joined AZ Pro Benefits at its inception. He holds a Bachelor of Arts degree in Foreign Languages from Prescott College. Along with his native Portuguese, he is also fluent in English, Spanish, and French. Daniel's people skills and his command of several languages, make him especially helpful to individuals and companies with employees who are not completely comfortable in English. His command of Spanish is especially important for the growing Hispanic population in the southwest. He is a valuable asset for AZ Pro Benefits.
Call for a free quote and consultation
480-419-7758
We can help you find the right insurance plan for your needs and budget.
Don't Go Uncovered!
Let Arizona Pro Benefits help you find the right health insurance plan! Whether for yourself, family or business AZ Pro Benefits specializes in helping you make the right decision to fit your needs and budget. As we represent all major health insurance carriers, we can find the right coverage for you!